Kendall Jenner & J'Adore Cowboys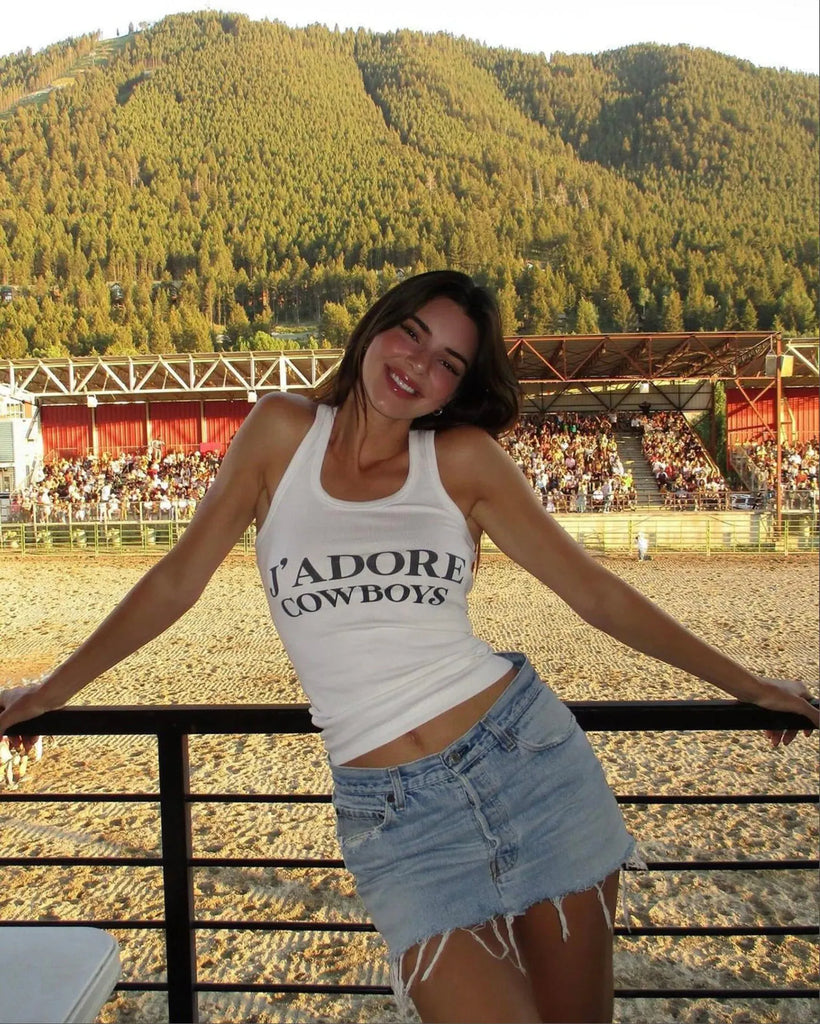 Kendall Jenner, the fashion-forward trendsetter, has a knack for turning heads with her effortlessly chic ensembles. Among her latest style obsessions is the "J'Adore Cowboys" tank top from Liberato Stile, and it's not hard to see why. In this blog, we'll delve into why this tank top has become a staple in Kendall's wardrobe, highlighting the exceptional quality, top-notch customer service, and lightning-fast shipping that sets Liberato Stile apart.
The "J'Adore Cowboys" Tank Top: A Style Revelation
Kendall Jenner's choice of the "J'Adore Cowboys" tank top is a testament to its undeniable allure. This unique piece seamlessly blends Parisian chic with a touch of Western flair, capturing the essence of a free-spirited fashion statement.
Quality that Speaks Volumes:
The moment you lay your hands on the "J'Adore Cowboys" tank top, you're met with a palpable sense of quality. The fabric is luxuriously soft yet durable, ensuring both comfort and longevity. Kendall's endorsement of this tank top is a resounding vote of confidence in Liberato Stile's unwavering commitment to excellence.
Customer Service that Exceeds Expectations:
Liberato Stile takes pride in providing a shopping experience that's nothing short of exceptional. From prompt responses to inquiries to a genuine willingness to go the extra mile, their customer service team exemplifies professionalism and a genuine passion for ensuring customer satisfaction. It's this level of care that sets them apart in the world of online fashion retailers.
Swift Shipping for the Style-Forward:
In the fast-paced world of fashion, timing is everything. Liberato Stile understands this implicitly. Their commitment to swift shipping ensures that fashion-forward individuals like Kendall Jenner can effortlessly incorporate their coveted pieces into their wardrobes without delay. The "J'Adore Cowboys" tank top arrived at Kendall's doorstep in record time, further solidifying her trust in Liberato Stile.
Kendall's Review: A Glowing Testimonial
When asked about her experience with Liberato Stile and the "J'Adore Cowboys" tank top, Kendall Jenner had this to say:
"I'm absolutely in love with the 'J'Adore Cowboys' tank top from Liberato Stile. The quality is unmatched, and it's become a go-to piece in my wardrobe. The customer service was outstanding, and the lightning-fast shipping was the cherry on top. Liberato Stile truly knows how to deliver on style and service!"
Your Style with Liberato Stile
Kendall Jenner's affinity for the "J'Adore Cowboys" tank top from Liberato Stile speaks volumes about the brand's dedication to quality, service, and style. Elevate your wardrobe with this unique piece and experience the exceptional standards that have won over even the most discerning fashion icons. Embrace the fusion of Parisian elegance and Western allure, and make a statement with Liberato Stile.
Shop J'Adore Cowboys Shirts & Hoodies