French Bulldog Enamel Pins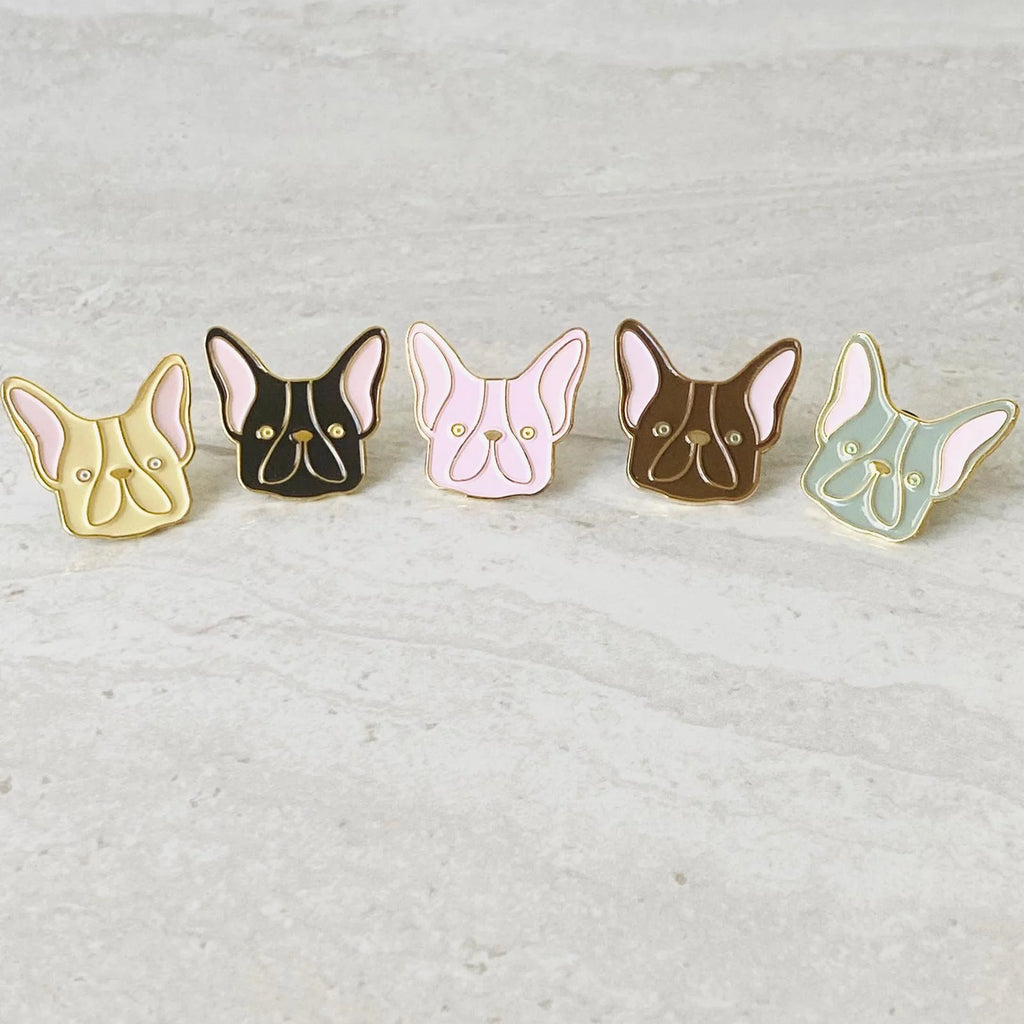 French Bulldog Enamel Pins: Celebrating the Adorable Diversity of a Beloved Breed
For French Bulldog enthusiasts and collectors, there is an irresistible charm in celebrating the diversity of this beloved breed through enamel pins. These miniature works of art capture the essence of French Bulldogs in various colors, offering a delightful array of options to add to your collection. In this article, we explore the reasons why collecting different color French Bulldog enamel pins is a joyous endeavor that celebrates the uniqueness and allure of these adorable canines.
1. Capturing the Beauty of Diversity:
French Bulldogs come in a fascinating array of coat colors, each exuding its own appeal and allure. From classic shades like brindle, fawn, and pied to rarer colors like blue, chocolate, and lilac, enamel pins provide a creative canvas to capture the beauty of this diversity. Each pin represents a different facet of the French Bulldog's personality and appearance, offering a rich tapestry of options for collectors to explore and appreciate.
2. Personal Expression and Style:
Collecting different color French Bulldog enamel pins allows you to express your personal style and love for the breed. Whether you prefer the elegance of a black French Bulldog or the striking appearance of a merle or cream one, there's an enamel pin to match your taste and preference. These pins can be proudly displayed on clothing, bags, or pin boards, showcasing your admiration for French Bulldogs in a stylish and expressive manner.
3. Commemorating Special Moments:
Each enamel pin in your collection can become a precious memento of special moments and memories. Perhaps you acquired a pin during a memorable trip or a significant event related to French Bulldogs. Each pin represents a unique story and can serve as a reminder of the joy and love these dogs bring to our lives.
4. Supporting Artists and Small Businesses:
Enamel pins are often crafted by independent artists and small businesses, each putting their creative touch and passion into the design. By collecting these pins, you not only celebrate the French Bulldog breed but also support talented artists and creators who bring these adorable designs to life.
5. A Growing Collection:
Collecting different color French Bulldog enamel pins is an ever-expanding journey. As you discover new designs and colors, your collection will continue to grow, reflecting the endless possibilities that this breed offers. It becomes an exciting pursuit to seek out unique and rare pins, adding to the thrill of collecting.
6. Community and Connection:
Collecting French Bulldog enamel pins fosters a sense of community and connection among fellow enthusiasts. Sharing your collection, attending pin swap events, or engaging with like-minded collectors on social media creates a bond that celebrates the shared passion for these charming canines.
Collecting different color French Bulldog enamel pins is a delightful way to celebrate the beauty, diversity, and allure of this beloved breed. Each pin captures a unique aspect of French Bulldogs, offering an artistic representation of their charm and personality. As you grow your collection, you create a tapestry of colors that reflects the joy and love that these adorable canines bring to our lives. Through enamel pins, you connect with a community of fellow enthusiasts, supporting artists and creators while expressing your personal style and admiration for French Bulldogs. So, embark on this enchanting journey of collecting French Bulldog enamel pins, and let each pin be a cherished reminder of the joy and wonder of these beloved furry friends.